Date for Your Diary!
Motspur Park FC Presentation night Friday 15th May all teams invited.
Let's Make Safety & Compliance Matter
We are all members of MPFC Club and it is our responsibility to care about the safety of our children. We want then to play football in a safe environment which means we as volunteers need to help make this work.
Over the last few months I have had to cover the Sunday morning soccer school meaning I have not been available to take pictures or observe touchline behaviour. Last Sunday the former Motspur Park Gestapo made a welcome return, Daniel was instrumental in setting up this club and has strict behaviour code to ensure this club upholds its values and promise to developmental football.
Observation: Daniel wandered round the pitches after they had been set up and was alarmed to find that back bars were not clipped into the frame with the spring clips. Some goals had no spring clips at all.
Should you be setting up a pitch and there are no spring clips attached to the goal, please let your team manager know asap. No game should take place until the goals are properly secured. It's your son or daughter's safety you are putting at risk.
Whilst on the subject of goals, please pick up all the U pegs. We spend considerable money purchasing replacements pegs which is unnecessary if we take responsibility in packing up after each game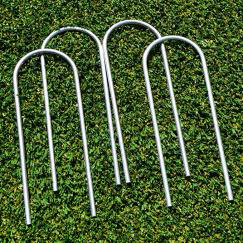 Coaches Coach, Parents Support
Daniel also found that a number of parents are coaching from the side-line, this must stop. You may think you are helping but really, you're not.
If the coach gives a set of instructions and parents tell them to do something different, this is when confusion sets in. Children learn more by making mistakes. If you do want to coach, please volunteer to take a coaching course like all our coach volunteers have.
It's bad enough listening to parents screaming at their own child but it's totally out of order if parents are shouting at other players in the team. That is unacceptable behaviour and MPFC do not tolerate having parents with behaviours as such.
Parents, please encourage positive football!
Please watch the following video
Daniel has now agreed to come back and join the coaching staff at Motspur Park after a 2-year break. He will resume his old role by taking over the Sunday morning soccer school. This will free me up to resume by role in ensuring safety and compliance is observed.
However, we hope as parent volunteers you will do your bit in ensuring safety set up is your first priority.
Postponed Matches
This year has seen an unprecedented number of matches postponed at our home ground.

Unfortunately, the ground is clay based and does not drain very well. This has meant that many matches were postponed or you have had to reverse the fixture and play away instead. I know some of you have made your opinions heard but it's a league rule that games are reversed if the away team have a pitch available. There is nothing we can do about it; the rules are rules. So please be available for your match.
Looking for a Website Manager (approx. 1 hour a week)– see advert below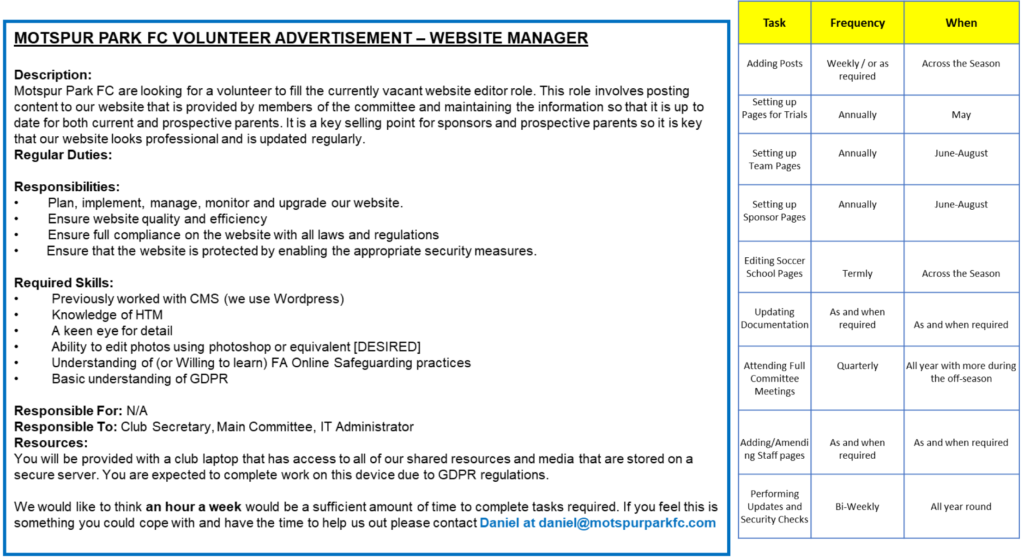 As always, thank you for your support.

All the best,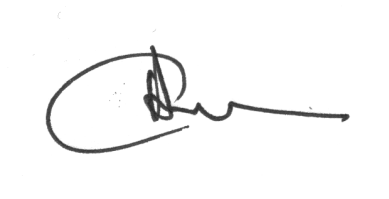 Gary Hammocks
Club Secretary